B2C LOGISTIKAS 360 FULL SERVICE
We are proud to announce the extension of the B2C LOGISTIKAS 360 FULL SERVICE to our customers around the globe.
Switzerland is not a member of the EU and have no Free trade agreements with foreign countries. Making purchases from Swiss companies/shops from abroad a complicated process with problems of language, export procedures and expected service. Whilst many Swiss companies/shops have products that are in great demand and much sought after, some of these companies/shops are small artisans who do not have the structure to sell abroad, accept foreign credit card payments or possess the logistic contracts to provide the adequate service expected by the modern shopper.
This is where B2C LOGISTIKAS 360 FULL SERVICES comes in to bridge the gap between these two distant worlds!
How does it work?
1. You make your purchases from one or multiple shops within Switzerland and have the items sent to your Logistikas Personal Forwarding Address.
2. Logistikas will make collection of your purchases; consolidate multiple purchases if requested, store if requested and intimately ship to Registered Account Shipping Address when requested.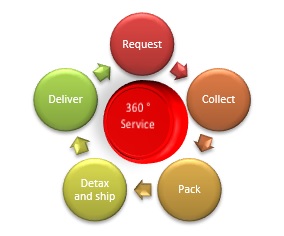 A Full 360 state of the Art Swiss Service
Here's an example of how it works:
1. Mr. Smith lives in England and would like to buy specialty Swiss items found in various different shops around Switzerland.
(Many Swiss companies/shops do not have online catalogues/services or have a very limited availability for online purchase or do not accept foreign credit cards or do not ship overseas)
2. Mr. Smith wants to buy a Swiss Army Knife from a shop in Neuchatel, a box of chocolates from a small chocolate maker in Geneva and a precision time piece from a watchmaker in Bulle, but does not want to come to Switzerland to collect his various purchases or pay three separate shipping fees.




3. Mr. Smith creates a B2C LOGISTIKAS 360 FULL SERVICE account. He can then shop for as many items as he likes, having all his purchases sent to his Logistikas Personal Forwarding Address. He can request for single shipments, consolidated shipments or storage.
4. Logistikas will get back to Mr. Smith with a 'Full Package' offer (Logistikas bills in Euros. This currency allows Logistikas to service the widest client base possible), iincluding acceptance or collection of purchases, storage, export procedures, shipping and any follow up service required. Mr. Smith can then kick back and relax, knowing that Logistikas will take care of the rest.